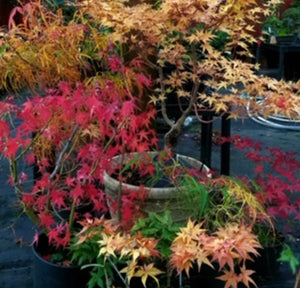 A fall walk through Mini Forest
Leisurely walks through Mini Forest are most always peaceful and rewarding. Our nursery is in the Willamette Valley just south of Portland Oregon. Mild summers and winters are the norm. Autumn rains usually start around October first as the valley is considered a maritime climate. This year fall brought a long, dry and warm Indian Summer. We had to water more frequently and for longer sessions. So when we took our stroll through Mini Forest on the last week of October we were well rewarded with visual delights. Of course it's the Japanese maples that first catch the eye. A "Gathering" of several such as Pink Princess, Koto no Ito aka 5 String Harp, Viridis, and Mikawa make the perfect photo op. They were in a show-off mode so we took several photos to savor the memories.
.
                        Gathering of maples.  5 string Harp     Baby Lace like Fireworks!
Next was the Larch family.  Their golden needles were like a lit up as on a neon sign! Soon they will drop off, leaving bare branches above a skirt of yellow.  The variety Diana will then show her twisted, contorted branches.  Dropping needles is normal for the Larch.
                                       Larch  October        Larch  November     Windswept leaves
Early November brought two days of steady winds. Many plants were pushed over and had to be righted only to be blown over again. The maples and larch were striped of color.  Piles of leaves were everywhere! Mother Nature did one appreciative thing. She  pushed the leaves into piles against the base of the Bonsai tables and the deep flats making pickup easier and faster!
Now Thanksgiving is approaching.  Still no rain.  We had to water again.  This time lengthy and deep.  Days are getting colder.  The weatherman speaks of rain, frost, and a sprinkle of snow.  Leisurely walks in shady areas such as the lath area bring goosebumps and shivers.  Walking becomes more brisk.  We think of the warmth indoors and aim our footsteps towards there.  We will come back tomorrow but then with a heavy coat, a warm hat and warm boots.  Winter is in the air.  
PS: After the holidays in early January look for new listings of our small and dwarf Japanese Maples, Larch, Ginkgo and ground covers. www.miniforest.com  All perfect for small scale scenes and will be ready to ship when you are ready to receive them. 
.Happy Holidays.  Sky and crew.  
---